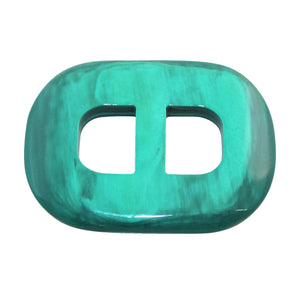 DESCRIPTION
Awaken your creativity and invent multitudes of wear looks with the elegant
Timeless Scarf Locket. They will instantly add a statement to your look. The
reversible scarf locket can be used with any scarf size. It's a perfect fit each time. Scarf locket will secure your scarf to stay in the right place throughout the day while preventing scarf damage from knotting. One of a kind buffalo horn scarf locket lacquered in a beautiful turquoise color is finished to absolute perfection. Handcrafted in an all-natural material, slight variations in color and pattern may appear. An alluring smile will always adore your face every time you wear it.
ITEM INFORMATION
COLOR: Combination of ethically sourced water buffalo horn in turquoise
lacquer. Each piece is unique to the cut of the horn so a slight variation of color may occur.
MATERIAL: Sustainable, ethically sourced natural buffalo horn, lacquer
COMPOSITION: Versatile, one of a kind handmade statement accessory
CARE: Clean occasionally, as needed, with a dry tissue or dry soft cloth.
Do not clean with water
MEASUREMENTS: 2.2" x 3"/ 75mm x 55mm; hole size: 17mm x 22mm
COUNTRY OF ORIGIN: Material imported from Vietnam