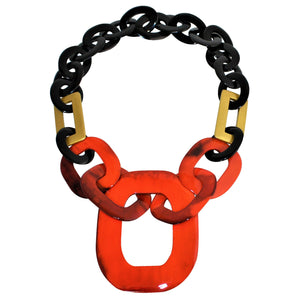 DESCRIPTION
Add a statement to your everyday look with a bold, colorful statement from DIDAJ Lush Collection, a buffalo horn pendant necklace in orange, gold & black lacquer. Pairing different link's sizes, this striking piece is always an eye-catching fashion statement accessory to any outfit, day or night.
ITEM INFORMATION
COLOR: Combination of buffalo horn in orange, gold and black lacquer. Each piece is unique to the cut of the horn so a slight variation of color may occur
MATERIAL: Sustainable, ethically sourced natural buffalo horn, lacquer
COMPOSITION: Versatile, one of a kind handmade statement accessory 
CARE: Clean occasionally, as needed, with a dry tissue or dry soft cloth. Do not clean with water
MEASUREMENTS: Chain length: 22", pendant size: 4" x 3.2"
COUNTRY OF ORIGIN: Material imported from Vietnam